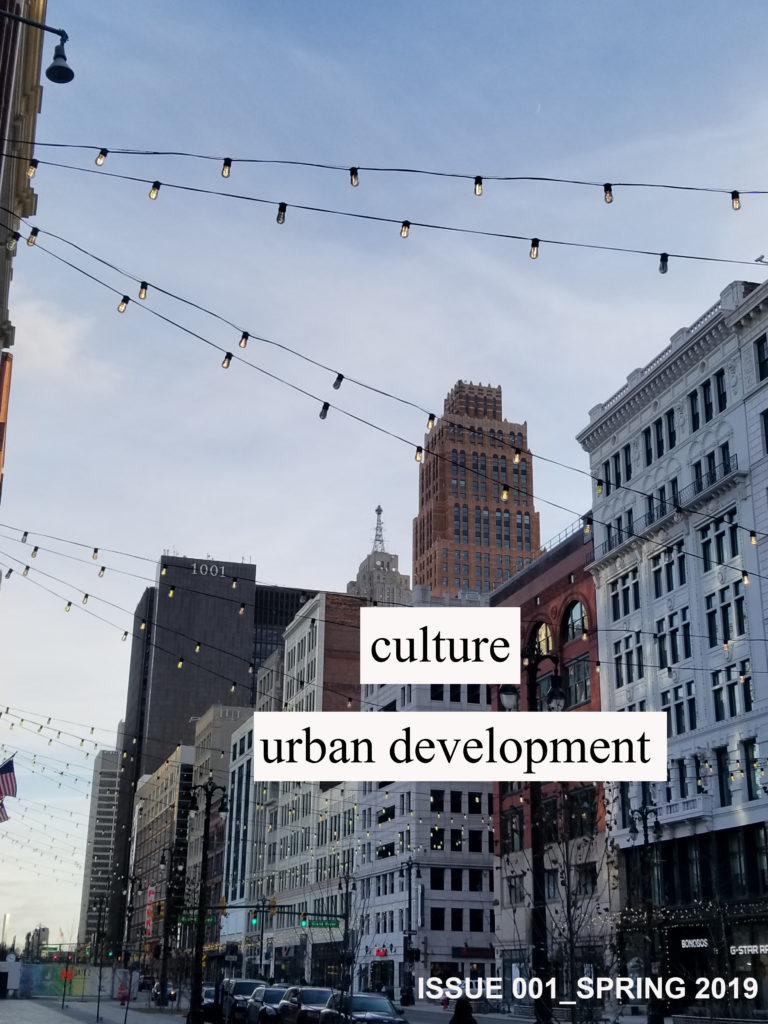 Detroit Cultural is a quarterly arts journal that focuses on the ways in which culture and urban development inform one another. Via in depth interviews with artists, curators, critics, and scholars, this journal explores issues existing at the intersection of the cultural and the political. We believe that culture and politics are not simply fields of study, but also lenses through which to understand the world around us. Everything is political, and everything is cultural. The cultural is circumscribed by the political, and the political is circumscribed by the cultural. There is no stepping outside of these contexts. With that in mind, we believe that an interdisciplinary approach is the most effective methodology for handling the complexity and plurality of approaches to this intersection.
In exploring this subject matter, Detroit Cultural takes as its primary focus:
The ways in which culture is utilized for political and commercial ends, and as a tool for reshaping urban space. Culture is the commodity that sells all the others.

The social and political responsibilities of artists, curators, and art institutions. How can cultural institutions act as models of democracy and equity for institutions across broader contexts?
While first and foremost maintaining a specific focus on what is happening here in Detroit, Detroit Cultural also looks outward, covering these subjects across broader contexts, and conversing with those doing work in these areas from across the globe.
Our inaugural issue contains interviews with Rachel Adams, the chief curator and director of programs at the Bemis Center for Contemporary Arts in Omaha, Nebraska, Taylor Aldridge, a Detroit based writer and curator and founder of ARTS.BLACK, Dora Apel, a professor and the W. Hawkins Ferry Endowed Chair in Modern and Contemporary Art History at Wayne State University, as well as the author of Beautiful, Terrible Ruins: Detroit and the Anxiety of Decline, James McAnally, a writer, curator, and artist based out of St. Louis, Missouri,  co-founder of the Luminary and Temporary Art Review, Nato Thompson, the Artistic Director at Philadelphia Contemporary, and author, most recently of the book Culture as Weapon, Juana Williams, a curator native to Detroit who is currently the Curator of Exhibitions at the Urban Institute for Contemporary Art in Grand Rapids, and Aurella Yussuf, a writer, curator, art historian, and founding member of Thick/er Black Lines.