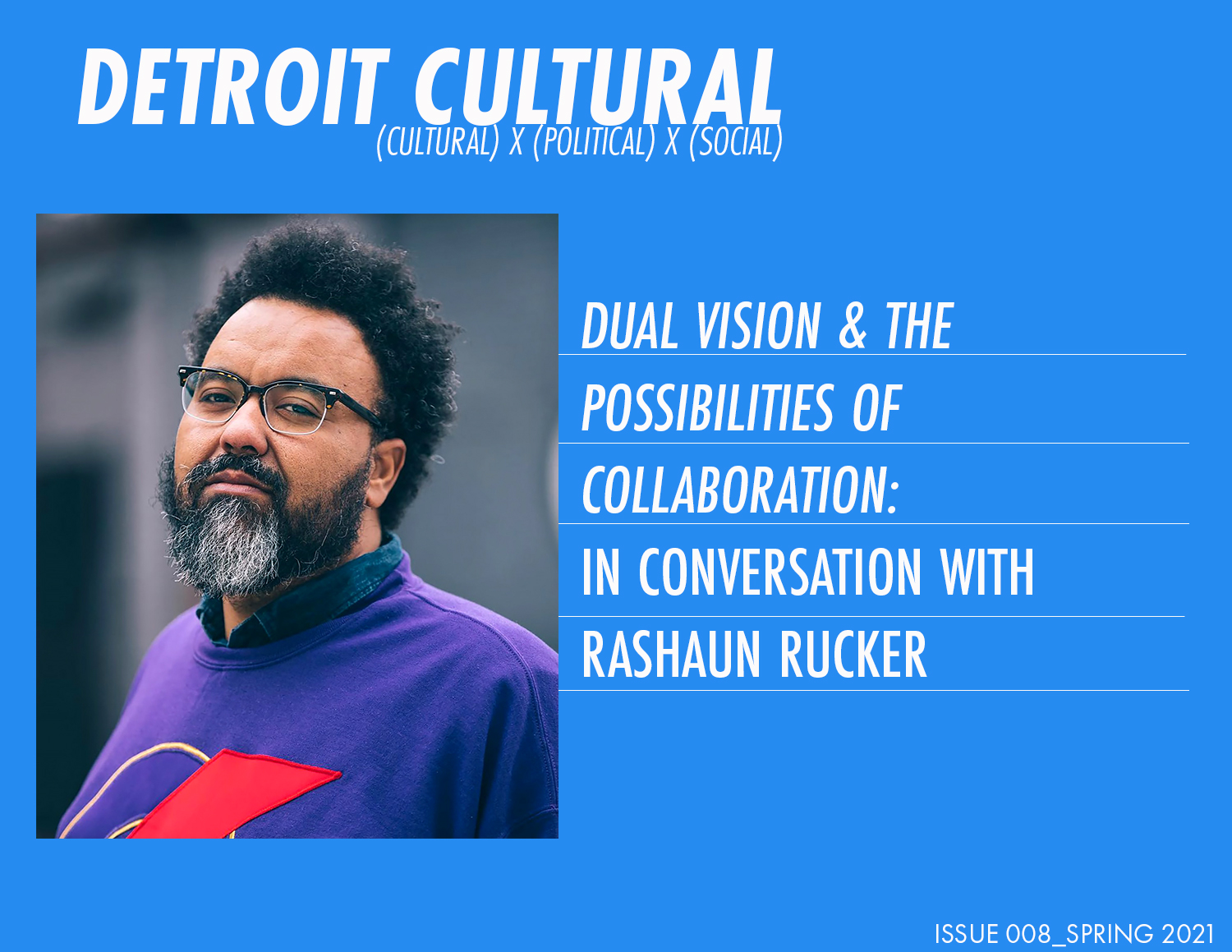 Rashaun Rucker is a product of North Carolina Central University and Marygrove College. He makes photographs, prints and drawings and has won more than 40 national and state awards for his work. In 2008 Rucker became the first African American to be named Michigan Press Photographer of the Year. He also won a national Emmy Award in 2008 for documentary photography on the pit bull culture in Detroit. Rucker was a Maynard Fellow at Harvard in 2009 and a Hearst visiting professional in the journalism department at UNC-Chapel Hill in 2013. In 2014 Rucker was awarded an artist residency at the Red Bull House of Art. In 2016 Rucker was honored as a Modern Man by Black Enterprise magazine. In 2017 Rucker created the original artwork for the critically acclaimed Detroit Free Press documentary 12 and Clairmount. His work was recently featured in HBO's celebrated series Random Acts of Flyness and Native Son. In 2019 Rucker was awarded the Red Bull Arts Detroit micro grant and was named a Kresge Arts Fellow for his drawing practice. IN 2020 RUCKER WAS NAMED A Sustainable Arts Foundation AWARDEE. Rucker is currently a 2021 resident at the International Studios and Curatorial Program (ISCP) in Brooklyn, New York. Rucker's diverse work is represented in numerous public and private collections.
How did you come to work with your specific collaborator? Did you know them before this? Were you familiar with their work?
I've known Mario for a very long time. Especially through his mother Sabrina who I've known for a good long while. MOCAD actually gave us our partners, I think they just chose people who they thought would challenge each other.
Before the actual process of making, what was the process of deciding on what to make like? What was the making process itself like?
At the time he was still living in New York, it was before he moved back. It's funny I think the actual first conversation we had he just happened to be in town so we met at Avalon, but then every meeting after that was on Zoom. We just talked about the work we were doing separately, and we saw that we were both thinking of the narrative of like a Black sanctuary, and so we took that route because it was natural. We didn't have to fabricate anything it was what we were already doing.
As for the actual making process, we were both working on our stuff and we would talk about what we were doing but we didn't see anything until we installed it. I think I sent him a photo or two but that was about it. We kind of had an understanding just from talking. There's a sketch of the actual installation that we did after that first initial meeting of what we wanted it to look like with the drawing overlapping the installation. 
At first we were going to both do large drawings. When we met with MOCAD Jova was the first person to put it in my mind—she kind of asked me, she was like, "do you feel like you have to draw? Why don't you explore something else" I love that she kind of challenged me, she kind of said, "everybody who knows you in the city always expects to see an amazing drawing," but she was like, "why don't you give us something different?"  And so it's funny I've had so many people call me who are like, "man I've been looking at this thing and I didn't even know it was yours." People are used to seeing the super high detail birds that I do, or printmaking. I remember Sydney James was like, "you're not going to draw anything?" And so it was definitely a push for me, that was the first installation I've ever done. It required like finding objects, fabricating things, pushing me in a different way.
What new possibilities were offered through collaboration that would not have been possible working alone? Did you feel any disadvantages compared to working alone? 
If I were just doing it alone I never would have done an installation. When we had the initial conversation I was going to do a drawing of my great grandmother on that porch, and then we started talking about an installation and Mario was like, "well it will be cool cause we both will be talking about a figurative thing but it won't necessarily be a person", because if you remember his drawing is like a coatrack, his grandfather's coat, and a bible. So it's like his grandfather without the physical representation. I think it flowed better with that because there is no physical representation of a person in my installation outside of the pictures of the scrapbook. 
We talked about that purposefully with Mario's drawing too, making sure it overlapped with the space of the installation so it was a conversation between the two. Because there's his great grandfather's jacket, my great grandfather's jacket, those connections. It was outside of my comfort zone but I'm super pleased with how it worked.
I didn't feel any disadvantages compared to working alone, I think had missed that type of energy that you get like when you're in college working around people. And when you're a professional working around the house it's a lot of solitude, so this gave me the advantage of having that give and take, and being able to exchange creative energy and talk through things with Mario. That's part of the reason Tylonn J. Sawyer, Sydney G. James, and Scheherazade Washington Parrish and I started the Vanguard Artist Collective, we wanted to have a safe space for collaboration and to talk to each other about what we're working on. So whenever I'm working on something best believe they're seeing it through every step. There have been times when I'm finishing a piece and Tylonn is like, "bro that's not it." And I take it cause I know it's coming from a good space. We just talk to each other about our work constantly, cause you don't have that when you're working by yourself. 
Did working collaboratively provide you with any insights that could be extrapolated and used outside of art in either a personal or political context? Were there lessons learned that could be used in other aspects of life? What did it teach you about democracy?
I think it just moved me to approach different materials in my work and to keep the same narrative but approach it with new material. I'm actually doing a few installations in my next few shows.
This was the first collaboration I had done since college.  It's a dope thing to work with somebody else because it's all about sacrifice, and so the coolest thing about it is coming together to find that common narrative. It was great and organic, it wasn't forced. We were both already working towards work about Black sanctuaries, so it was awesome to work with somebody and meet in the middle on that. There really wasn't any teeth-pulling at all. It was just like "what are you working on?" And we had that brainstorming session in the coffee shop and we both landed on where our work intersects. Sometimes I feel like when you force a narrative you get outside of what you are. 
Going off of the title of the exhibition, how do you and your collaborator see your specific work differently? 
I think we had similar reactions to it. You have to definitely get his take on it, but I think we were both pleased and both felt it was a really cohesive piece. We're both working on oral history and memory. He was talking to his grandmother about his great-grandfather and I was talking to my grandfather about my great-grandparents and the porch, and finding pictures of the porch and our family using it. So we had a lot of the same synergy going on. I think at the end of the day we both were just honoring our ancestors.