Lauren Harris is a fine art management professional, independent curator, and creative director from Atlanta, GA. Harris most recently served as the Gallery Manager and Curator of ZuCot Gallery, a black-owned fine art gallery exhibiting the works of notable Black artists. Along with working with the AUC Art Collective, Harris works to develop and support Artists of the Diaspora, curates art exhibitions and experiences, and support local art spaces and organizations. Inspired by her experiences in the art world, mentees and colleagues, Harris Co-Founded Black Women in Visual Art, which launched October 2019, to cultivate, connect with, and serve Black womxn professionals to placement and leadership in the visual arts + cultural sectors.
How did you come to be involved in curatorial work?
I can start back from middle school, I don't know if its telling my age but back in middle school we used to do these career aptitude tests, and they used to print out this tearaway type of sheet and it came up as teacher, creative career, and psychology. By the time I got to high school I was very immersed in the arts programming there, I was fortunate enough to have AP Art History that I could test into and that I could use to catapult me into my education in college. In college I ran from art history in the beginning because of parents thinking, "an art career, what is that going to bring you?" so I went into fashion merchandising to appease my parents. The first semester i was like "this is absolutely horrid, this is not my scene, I don't want to come to class dressed up" so I secretly changed my major halfway through my freshman year to graphic design, and I also worked with my counselor to implement art history courses, they were already required as a fine arts major but I wanted to take on more.
So right out of the gate you were equally as interested in art history as you were in studio work?
I wanted both because I think you can't understand how to analyze art without knowing how to make it. I like the process of making and knowing collage, drawing, the various forms of painting. I think it helps me understand artwork and the artist better because I'm familiar with both sides, and I think that it made me love it more. 
So in college, the former chair at Howard University created a program with an art business course years ago, and that set everything apart for me, I was like, "that's me." He kind of made the course work around managing artist studios and working in contracts and think about business management within the arts ecosystem. People weren't talking about art careers in 2006 and 2007 the way they are now. And as a Black woman in that space it was even more less talked about, especially coming from an historically Black college. 
What are some of the ways that you've seen the arts job sector change in the last decade?
It's changed in the way that some organizations are more open to people of color. Coming out of college, very frankly no one was checking for a little Black girl with an art history degree. I graduated summa cum laude and had internships and was immersed in the arts. I had the same criteria that anyone would have on their resume coming out of college and going to New York but there were colleagues I would meet at the same level who were getting the same jobs and I couldn't figure out why I wasn't getting chosen. But I actually got a job with an art advisor, she was Korean, and she gave me a job managing her sales in her office space. I think it's changed in opportunity and reach, of course they've had to create diversity based programming for internships and jobs, which has helped bring more Black people and people of color into the space, because that has been kind of a growing concern, especially with the Melon study that has come out and shown the disparity in these places. 
Does that go for a majority Black city like Atlanta too? Are a lot of jobs in the arts sector still disproportionately white?
I'll say this, Atlanta doesn't have enough spaces in general to even judge that. There are a lot of grassroots organizations and individuals who are leading efforts and programs here, but unfortunately Atlanta is still fairly segregated in terms of the arts. There are so many different neighborhoods and spaces that are only serving their own community. The Black arts community here creates opportunities for themselves. There are organizations that are owned and operated by white people that do support the Black arts ecosystem here, but generally we're creating space for ourselves.
Was the art history curriculum at Howard University less European dominated in its approach?
Going from AP art history in high school which was the standard Western approach to art history, but as soon as I got to Howard I was like "where did all these people come from, why wasn't any of this in that five-hundred page book I had to read for the last two years. And of course it's the same way you look at Black history, you know the Martin Luther King Jr., Harriet Tubman, Frederick Douglass, same for art history, you learn about Jacob Lawrence,  Romare Bearden, and that's about it. You don't learn about Henry Ossawa Tanner as a European-based, classically trained artist. They don't talk about actual art history. That was all exposed to me at Howard, we only discussed Black art from our eye, we did speak about European and Western art, Western in terms of the eyes of white people, but we studied ourselves and we analyzed our work, and that was groundbreaking for me in terms of understanding the Black arts ecosystem, cause I had no idea what that looked like until Howard.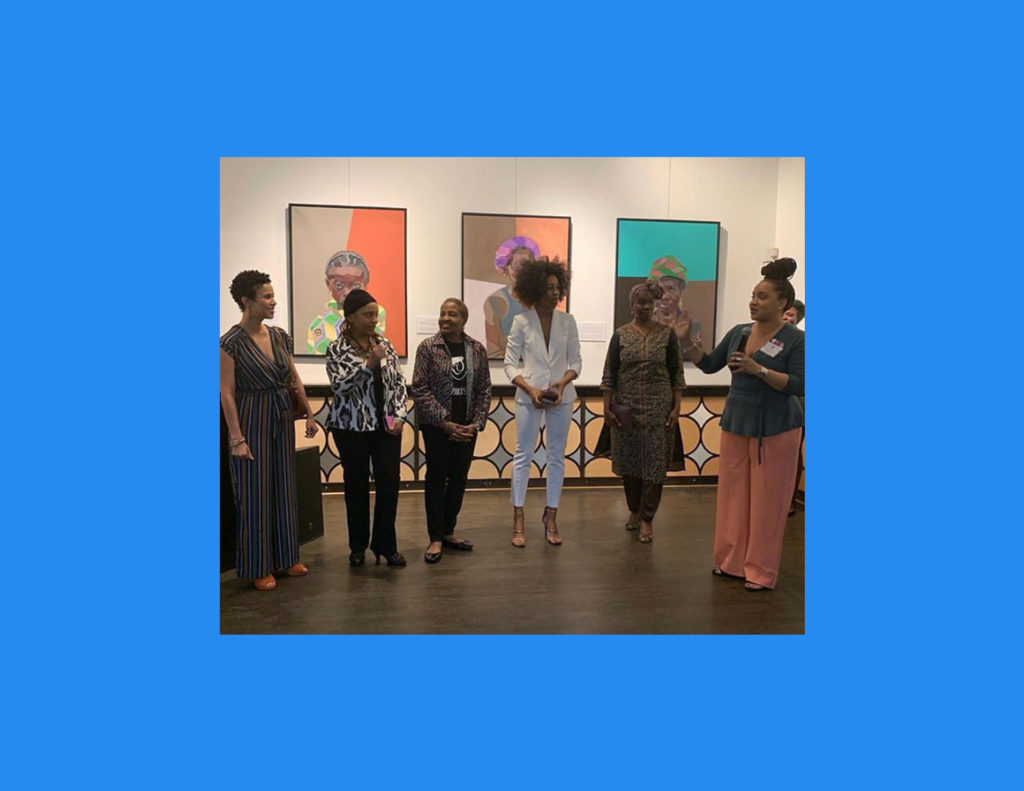 Could you tell me about how you started Black Women in Visual Arts?
It sparked from my experiences coming out of college, because of the lack of connectivity to other Black peers that work in the art space, and also the jadedness that I've grown over the years in working within the art world. My partner, Daricia Mia DeMarr, has had a very different experience, she was a mentee to Peg Alston, who is a long time art dealer and curator for Black artists, and she's been under her tutelage for years. I didn't have that so I had to make my own. So with our combined brains and how we've experienced the art world, she pushed me to create Black Women in Visual Arts because 1. I've had women in my own community here in Atlanta that want that camaraderie, wanting that sense of understanding from people that look like you and can understand your frustrations, and 2. Wanting to have a space to feel safe, because a lot of times as a Black woman, we are the only one in the room, and that can be jarring on our mental health and growth in the art world. 
So I created Black Women in Visual Arts as a way for me to give back in some sort of way to the women who possibly are alone in their spaces, who don't have the same financial stability to take a free internship or fellowship, because a lot of times with the Black family we aren't being supported in following our arts careers, or our families don't have the economic stability to pay our rent while we take this internship or low paying art job. I worked three jobs when I was in New York, because I had to. I had the chance to study abroad but I couldn't because of finances. We want to provide money to women to have educational and professional development or follow their project ideas that can't come to fruition because they don't have the funds to rent a space for a pop-up exhibition, or the funds to do research for a book. We want to provide them with access to do so, and we also want to be a conduit for a lot of organizations– what's the excuse we hear all the time, "oh you know I didn't know where to look to find a person of color to work in my space." Oh really? Well now I'm giving you one, we're going to give you a database, we're going to give you the answer. When we did the soft launch on Instagram in October we were like, "how can we start calling this out?" So every Wednesday we're just going to choose a different person and highlight a different person each week, we do exist, we're going to highlight the writing that we put into art news, those don't get enough views. Anything we write, anything we do, I highlight that in Black Women in Visual Arts because people don't realize that there are so many women that work that are true advocates for the arts. Everyone needs their due, everyone needs their shine, everyone needs their flowers. So we're just calling light to that, that we do exist in this space and we want to find a space to support them over the next few years as we develop as a full working organization.
What are you working on right now?
Right now I have a show that I co-curated with my partner in Black Women in Visual Arts, as a project with Day & Night Projects, an artist-run gallery here in Atlanta. It is with Wilay Mendez Paez, he is a Cuban artist that now works and lives in Atlanta. I'm very excited to work with him. I'm also working with Stay Home Gallery, it is a gallery based in Paris, TN. It's a home that the owner transformed into a gallery space and it is also a residency. I am the curatorial jury member for that, so I will write the curatorial statement and select the artist that they choose for the residency. 
I love how you describe curating as "caring for the art".
I think the word is being diluted right now. Curating means caring for objects in a museum space, not just your personal eye.
It seems like the word is being used now as just a broad term for how people organize things according to their taste, but I think the deeper job of curatorial work is contextualizing the work and trying to help  open up ways of making meaning for the audience. 
It's completely convoluted right now. In the program that I work in currently at the Atlanta University Center, I'm the coordinator for their Art History and Curatorial Studies Collective, we basically are in charge of managing our art history majors and minors and curatorial studies minors, and we completely teach them what actually curatorial studies is. As young kids they're thinking "oh I can curate my content" and using the word so loosely, but they're learning how to mine the museum, how to go deeper into museum space, go deeper into the arts. They're learning what curating is, that a curator is someone who literally cares for the objects. They see how tech is involved, they see that it may not always be a white cube space that they're working in.
I love that reference to Fred Wilson's Mining the Museum, and I feel like he's someone who points to how much deeper curatorial work can go, that it's also about the historical relations of these objects, and how those political and social histories play into their contextualization.
And it's our job to show that. And people also don't realize that for a Black person, art looks very different, there could be an object in front of you and it will look different to you and me based on our age, based on our upbringing, and its important to not get too deep into what it means to you, but how to translate it for others to understand. For instance, there is an artist here named Fahamu Pecou, and he did a cover of Atlanta Magazine that's a painting he did that says "Ahmaud Arbery will not be erased" and it's an image of a Black figure in all white floating in one motion, and I'm checking out at a grocery store and Black woman who is checking me out says "I don't get why you would want to put this on the cover," and I said, "why not?", so I'm having this conversation with her while she's ringin my eggs up, and I was like, "have you looked into the artist?" That's where it starts, look into the artist, try to understand the meaning of the art before you judge it. That's what I would tell everyone–before you judge a piece of art, figure out where the artist is coming from, because context is everything, and then you can make your judgement. You can still say you don't get it or don't like it, at least you did your due diligence to understand where the artist is coming from. And it's the same for curators, the reason why I want to highlight Black arts workers whether they are curators, administrators, people in museum education– our take in the art world is very different, but it is that much more important as well. Our voice is important in this space, and I want to make sure Black Women in Visual Arts helps us do that.  
Do you think that there are political and social responsibilities to artistic practice, and also curatorial practice?
Completely. Our program at the Atlanta University Center Collective for the Study of Art History & Curatorial Studies has a theme this year of art and social justice. As you see, even with the art world's response to what I'm calling the Black pandemic, which has been happening for centuries, art responding to it is giving people who may not understand it some kind of emotional response. Artists have an option to speak their voice and their emotions with their art, and as a curator my job is to not let that get convoluted. One of my projects last year during Black History Month, cause that's sometimes unfortunately the only time people look at Black art, was called 400 and it was a range of takes on being Black in America from younger artists that were in their thirties to older artists in their seventies, and it didn't change. The agony that was in the thirty year old was in the seventy year old, but the same Black joy that was in the thirty year old was in the seventy year old, it's literally intergenerational. It's important for me as a curator to tell that story, because if you don't watch the news and you're not in the community you're not going to know, and art can serve as a conduit for non-Black people to go to understand our story. And a lot of the time Black artists will use written narratives to help translate their work, which is very popular because if you put a piece of art on the wall and you can't understand it if you're not Black, then having that wall text as context is very important to understanding. I am very much for artists and curators responding to the times. That is our goal, not only curating the context of an art show, but also curating the context of our time.