Mario Moore is a Detroit native, currently residing in New York City.His work is included in several public and private collections which include the Detroit Institute of Art and the Studio Museum in Harlem. Moore has had solo exhibitions at the David Klein Gallery and The Urban Institute of Contemporary Art. His work is also included in "Fired Up! Ready to Go! Finding Beauty, Demanding Equity: An African American Life in Art" (2017) and "The Studio Museum in Harlem's catalog, Speaking of People: Ebony, Jet and Contemporary Art"(2014). He has recently been awarded a Princeton Hodder Fellowship for 2018-2019. 
As a painter, what led you to portraiture specifically?
Honestly my mom led me to portraiture. Not in a sense of her forcing a pencil in my hand and telling me to draw a face but growing up watching her make these large portrait paintings. I would see her work from live subjects and watch her recreate what was in front of her. I thought it was amazing. From there, still at a young age, I would visit the DIA and look at all the people portrayed in paintings and could find myself in a midst of a story. I liked that.
What do you consider to be the role(s) of portrait painting in a historical moment where people have more ability than ever to make images of ourselves and one another?
I think that's a conversation as old as the invention of photography. Why paint something realistic when a photograph can do the work? I think with things like instagram and photo apps and everything else this is the perfect time for painting and creating portraits than ever before. Because it is not just about what is painted, it is also about how it is painted, it's a way to slow down the viewer. The materiality of the paint, shows what painting can do that reaches beyond the photo. I think another thing people don't realize is that I don't just recreate what is in front of me. There is a lot of freedom and invention that looks like I used one photo image but that's not the case. I often encourage people to see my work in person who have only seen images online and they are incredibly surprised to see what is actually going on with the surface of paint. That's what excites me.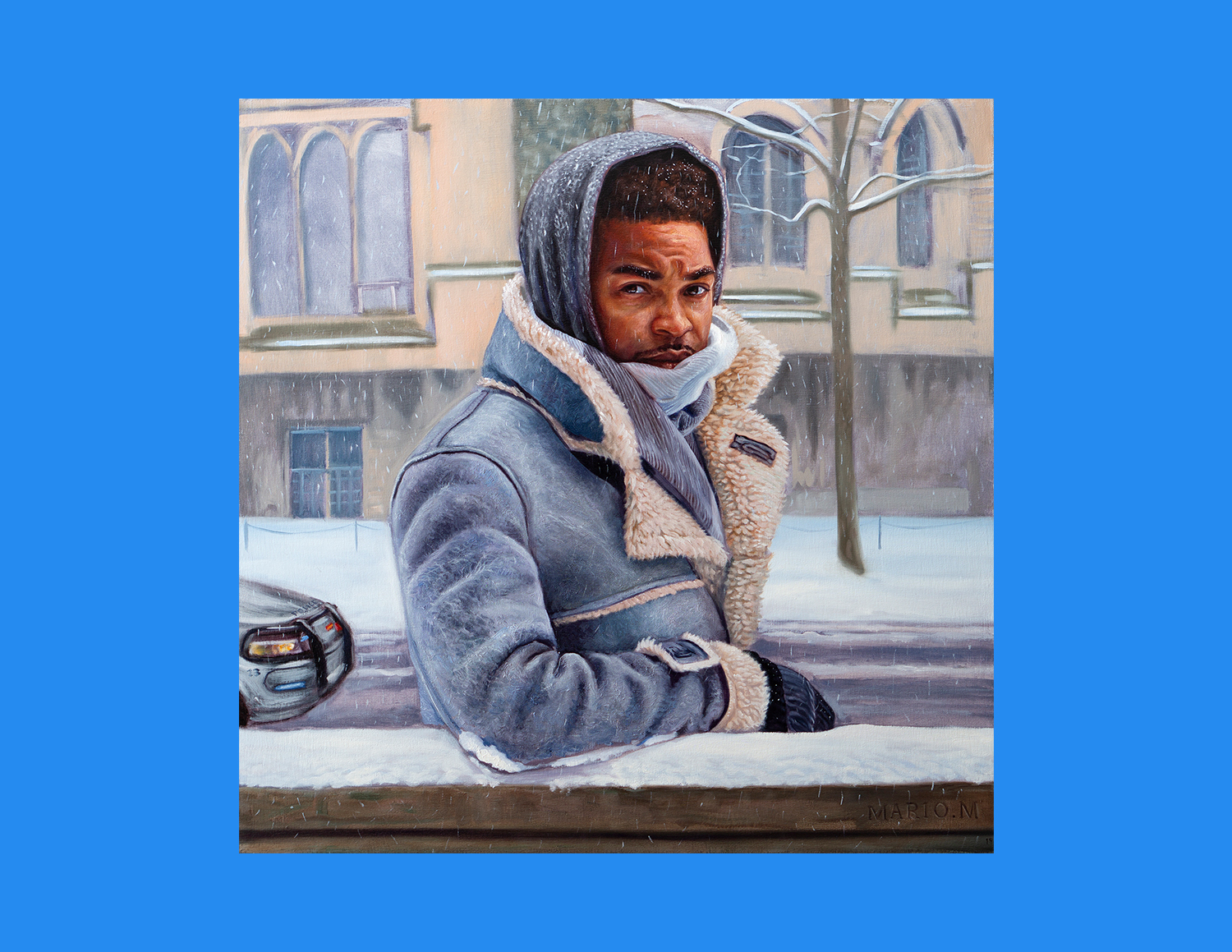 Do you think of your work as being political?
I think my work can find its way into the political when it wants to. But to me isn't everything political. Considering the time we live in, politicians are turning everything into a sound bite, an opinion or a source of political gain. I find confrontational a better word for my work.
Speaking on the portraits that you did of the Princeton faculty, you mentioned in an interview that in thinking about the representation of black people in culture, you didn't want to perpetuate service roles as normative, but that you had to reconcile that with your desire to honor the hard work people do every day. How do you navigate something like that as a portrait painter? Are there certain visual signifiers you used or didn't use? Were their historical precedents in the genre of portraiture that you looked to?
It was a hard balance. It was something I was reticent to actually try but I also think as an artist those are the challenges to take on. You either fail miserably or you make something that works. For me I wanted to make sure that they weren't serving anyone in the paintings. They all have service roles but for instance in the dining hall painting titled " Several Lifetimes" there are no students in the background. There is no food in the skillet, the work is about them, power and ownership. Another piece that is more inviting than the others titled, " the center of creation" shows a security guard allowing the viewer into a space, but the work on the walls you will not find hanging in the Princeton Art Museum. All the pieces are by Black artist and replaces the European works that are actually showcased in that gallery. I look at all kinds of art, endless sources but most I don't consider primarily as portrait painters because the figure allows an entry point but is not the main subject.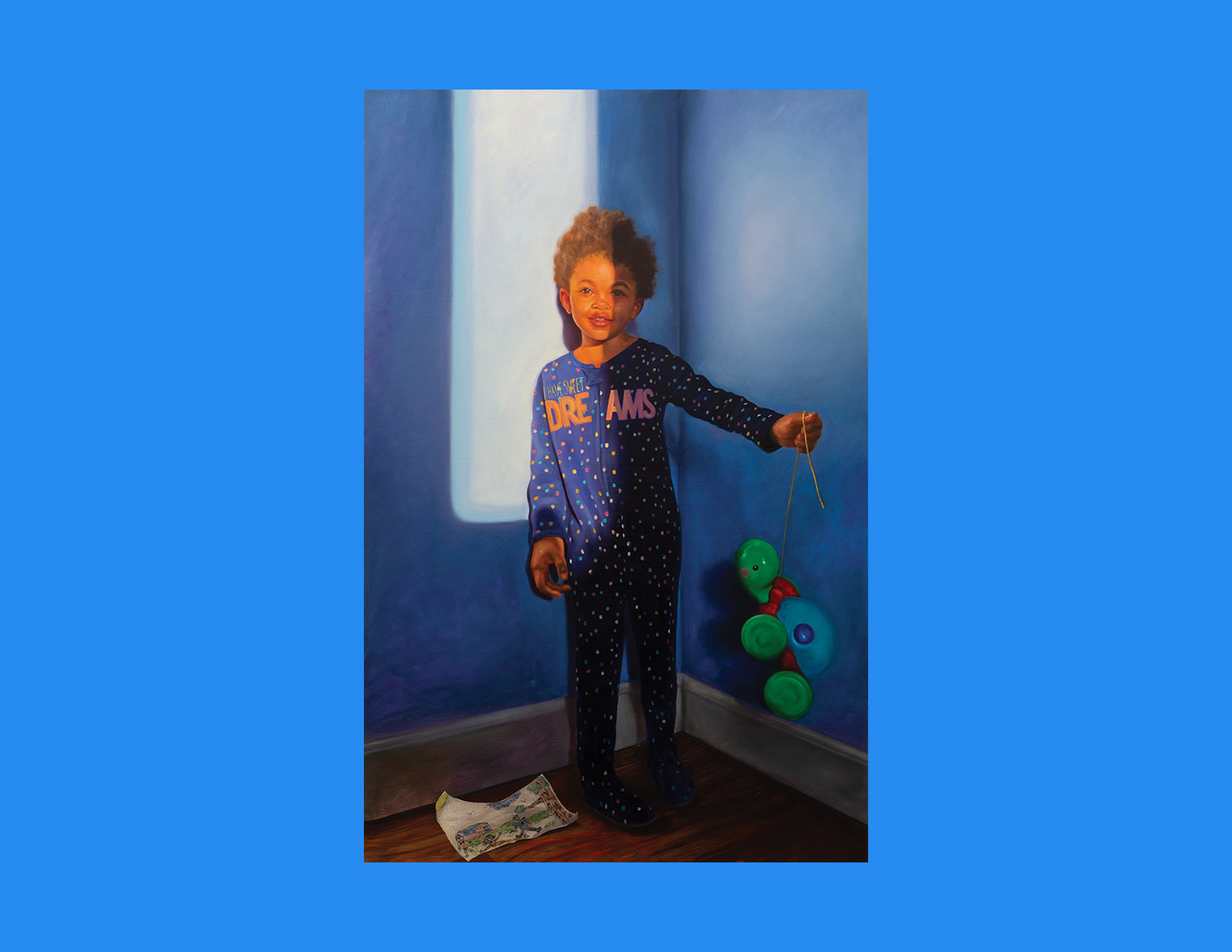 Your work also seems very interested in the performative aspect of portraiture. I was reading the piece Sarah Rose Sharpe did for Hyperallergic about your previous exhibition Recovery, and she mentions that you're obsessive about how figures are positioned in portraiture, and the history of figuration and how it can relate to issues such as class, power, race, gender, etc. Where does your interest in the positioning of the figure come from?
When you look at a piece by Hughie Lee Smith, it matters where he positions the boy in front of the brick building in the collection at the DIA. It matters that the boy is Black, it matters that the background is bleak. When thinking about the painting by Manet titled "Olympia" he made a decision to position the black woman behind the white woman and the black cat at her feet. The positioning of figures have information that the viewer can dive into. It helps me to understand how to read a painting when looking at historical paintings and I value that information and hope to create my own ways for people to see the positioning of bodies in my work.
Lastly, and shifting to the present moment, how has the current crisis affected your practice?
It has definitely affected my work flow. Scientist are still trying to understand all the facets of this thing. They still don't know how it works and are finding something new everyday. I had heart issues in the past and also brain surgery, so I am taking it slow. I make my way to the studio every now and again but have been mainly drawing. This has also shifted teaching for me as I teach at Princeton, requiring more digital time, keeping me at home.